A Motorcycle Claims Team that understands Bikers
Someone once told me, before I started riding, that there are two types of biker: one who's fallen off and one who's yet to fall off. It took me about a year to go from the second category to the first. – Neil John, Head of Civil Litigation.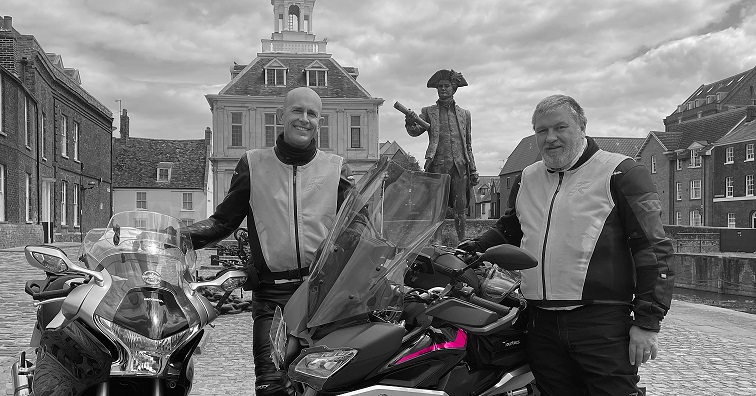 It is also fair to say that a person who has never ridden is unaware of the joy of riding, or just how vulnerable you are to injury in the event of an accident. So why would you put your faith in a solicitor who does not understand what you are talking about? If you have been injured in an accident, and are unsure about where to go next for motorcycle claims, speak to the team at Fraser Dawbarns and see how we can help you.

Why Trust your Motorcycle Claims to A lawyer that does not get bikers? Speak to one who knows what it is like...
Neil John and Iain Grimes are the founders of the BMF Biker Legal Line which ran from 2001 to 2010. Both were management committee members until Iain left their old firm to join Fraser Dawbarns LLP in 2008. Neil attended every single meeting for the 9-year run of the line. As a regional service, Neil and Iain covered Norfolk, Suffolk, Essex, Cambridgeshire, Lincolnshire, Leicestershire, and Nottinghamshire from offices in West Norfolk. Neil handled the accident and contract/consumer motorcycle claims while Iain dealt with business and conveyancing issues. Neil also served as resident Legal Expert for RiDE and Superbike magazines.

Iain is an avid motorcyclist, having passed both Institute of Advanced Motorcyclists (IAM) and the Royal Society for the Prevention of Accidents (RoSPA) advanced riding qualifications. For 9 and half years he volunteered as a rider for SERV Norfolk blood bikes and is credited with covering the first ever call for SERV Norfolk way back in October 2011. During his 9 or so years with the organisation he covered on average 500-600 miles per month in all weathers. His current steed is a much-loved Honda VFR1200F which is used for commuting to work, meetings, weekend rides and the odd jaunt to Europe to explore.
Neil was also involved with SERV from its infancy and served as a night controller, covering an average of one night a week from the line activating for well over a year until illness and surgery forced him off the road and all night shifts. After 6 long years off the road following illness, Neil is at last back on two wheels. His beloved VFR750FV, which he owned for a total of 11 years, has been replaced with a Yamaha Tracer 900 GT. Neil said "It's a completely different bike in terms of performance and power delivery but I need to be sitting upright now. It feels great to be back out on two wheels exploring the UK and beyond."
Between them, Neil and Iain have almost 40 years riding experience. If you are unfortunate enough to have an accident, would you not rather talk to a solicitor who understands the law and what it is to be a biker? Call us today on 01945 461456 and ask for Neil or 01366 383171 to speak to Iain for advice and support with motorcycle claims.
We settled for over £70,000, the claim of a client who suffered an orthopaedic injury when his motorcycle was hit by a car. He originally instructed his insurance company's lawyers to pursue his claim but was not happy with the way it was progressing and came to Fraser Dawbarns for a second opinion.
Testimonials
I could not recommend Fraser Dawbarns more highly. They helped me through the whole process of being an Executor. The customer service is absolutely excellent.
Client - Downham Market Office
Why Choose Fraser Dawbarns to Help You?
Free, No Obligation Consultation
You may be unsure about whether your motorcycle claims are valid in your circumstances or you may be wary about being pressured into making a claim if you see a solicitor. The team at Fraser Dawbarns will be happy to listen to your situation and advise you on whether we think you have a claim and whether we think you have a reasonable prospect of success. We will give you our opinion and an idea of any potential costs but will not put you under any pressure to proceed if you are not ready to do.
Free Initial Appointment

We offer a free initial consultation for personal injury work so that you can find out more about the process as no cost to yourself and we can establish whether you have a claim. During the free consultation, our solicitor will advise you on the best way to proceed.
Pricing Options
In cases where personal injury claims are not undertaken on a no win no fee basis, we offer a choice of pricing options to our clients. By offering the choice between undertaking work on either a fixed fee basis or at an hourly rate, we give you the freedom to select the pricing option that best suits you.
An Experienced Team
Fraser Dawbarns are ideally situated to help you with any legal claims you may have. Our team of civil litigation experts have years of experience handling a wide range of claims and disputes and the team is ranked in the Legal 500 guide to the top law firms for our Debt Recovery, Employment, Personal Injury and Contentious Probate work. With offices in Wisbech, King's Lynn, Downham Market, March and Ely we are close at hand when you need to see someone to discuss your case.

If you would like help with any legal dispute, please contact us to see how we can help you.
Contact Us Today
Our team will help you from the beginning of your case to the end, giving you total peace of mind. If you would like friendly, client focused advice on a wide range of legal issues, get in touch and see how we can help you.

Call or email us today and find out how we can make your life easier.